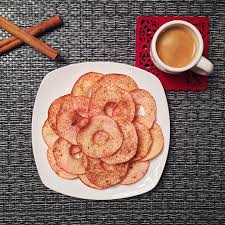 Apples are ubiquitous this time of year.  There are always a few of these delicious ruby red fruits stashed in our fridges or left over from an over-zealous picking excursion at the farm. While the saying may very well be "an apple a day keeps the doctor away", sometimes it's more enjoyable to deviate from routine and try something new.  Paired with a full-bodied espresso (we recommend our Fortissimo blend), these apple chips are the perfect snack; with just the right amount of crunch, but far healthier than a typical potato chip and sure to satiate your sweet tooth.
Ingredients
• 4 cups water
• 2 1/4 cups sugar
• ¼ cup lemon juice (approx. 5-6 lemons)
• 8-10 small apples, the crisper the better (like Spartan, Empire or McIntosh), washed and cored
Directions
In a medium pot, add the sugar and water and bring to a boil, stirring occasionally.  Remove from the heat and set aside to cool.
Using a mandoline or sharp knife, slice the apples horizontally as finely as possible (into disks with the cored part at the center) and sprinklethem with lemon juice to stop them from browning.  Submerge the apple slices in the cooled syrup mixture and cover the pot with a lid or plastic wrap and let the syrup infuse in the apple slices for a few hours, or better yet, overnight.
Place parchment paper on baking sheets and preheat the oven to 225 degrees F.  Place a few sheets of paper towel onto a large plate and lightly dry off the apple slices before placing them side-by-side in a single layer on the parchment paper.  Bake in the oven for about 55 minutes, or until crispy (add 10 minutes for larger batches).  Let the apple slices cool on the baking sheets for 5 minutes, and then remove them from the parchment.  If the apple chips aren't brittle and crispy at this point, put them back in the oven for an additional 5-10 minutes.
The recipe can be halved to make a smaller amount, or the syrup mixture can be used for multiple batches of apple chips baked over a few days, as these delicious chips are sure to go quickly!