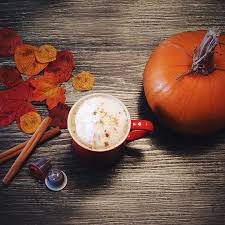 How To Make a Pumpkin Spice Latte at Home
Makes approx. 8 drinks
What You Need
Ingredients
5 tablespoons canned pumpkin
1 ½  teaspoon pumpkin pie spice (see recipe below*)
Finely ground black pepper
1 1/2 tablespoons brown sugar
3 cups milk
1 tablespoon pure vanilla extract
1 shot Lavica espresso
Frothed milk or whipped cream
cinnamon
Instructions
In a small saucepan over medium heat, using a wooden spoon, cook the pumpkin with the pumpkin pie spice and a dash of ground black pepper for about 2 minutes or until it heats up and changes to a darker colour.

 

Stir constantly.

Add the brown sugar and continue stirring until the mixture starts bubbling.

Add the milk and vanilla extract and turn the heat to medium low so that the mixture warms up but doesn't boil. Stir for 5-8 minutes, or until the mixture has warmed up.

Brew the Lavica espresso of your choice in a regular sized mug.

 

Add ¼ cup of the pumpkin spice mixture and stir.

 

Using the Lavica milk frother, froth some milk as a topping or, for a more decadent drink, add whipped cream.

 

Sprinkle some cinnamon over the frothed milk or whipped cream topping.

 

Enjoy!
Note: If coarser ground spices were used, the mixture can be strained before portioning into cups.  The remaining mixture can be refrigerated in an airtight container for a week and warmed up to make future pumpkin spice lattes as needed.
Pumpkin pie spice
Mix 4 tablespoons of ground cinnamon, 4 teaspons of ground nutmeg, 4 teaspoons of ground ginger, 3 teaspoons of ground allspice and 2 teaspoons of ground cloves.